Birds Need Our Help – You Can Make a Difference
Our partners at the Cornell Lab of Ornithology,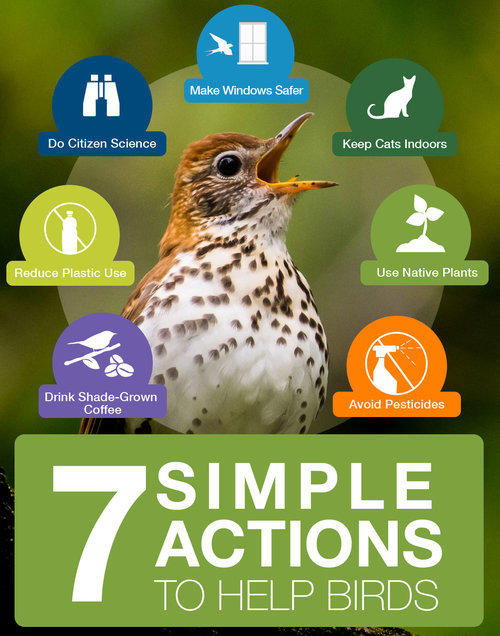 in collaboration with other researchers, have published a new study that evaluates the populations of more than 500 North American bird species. The results are nothing short of shocking! Today, the skies over North America are home to nearly three billion fewer birds than they were in 1970— which means that almost 1 out of every 4 birds have disappeared from our lives over the past 50 years.
The study also revealed steep declines among some traditionally abundant and common backyard birds, such as robins, finches, orioles and sparrows.
But while the majority of the study results are troubling, it also shared some encouraging news. A few groups of birds (such as waterfowl and raptors) are doing well, and demonstrate that conservation efforts can help to bring some birds back.
Yes, each of us can make a difference.
If you are a backyard bird feeder, then you know the true joy and value that birds bring to our world:
A simple glance out of your window never fails to bring a little bit of joy into your life…every single day.
It can be as simple as hearing the cheerful call of chickadee that brings a smile to your heart.
Or in contrast, it can be the heart racing excitement of hearing the primitive and bold call of the magnificent Pileated Woodpecker in your own backyard.
Indeed, birds bring so much to our lives. At Wild Birds Unlimited, our mission has always been to bring people together with the joy and the beauty of nature…and we are driven to make sure that future generations have the opportunity to experience this, too.
How You Can Help
We invite you to help by adopting the "7 Simple Actions" that can make your home and lifestyle more bird-friendly. Actions such as landscaping with native plants and making your windows safer for birds.
We also invite you to visit our Wild Birds Unlimited stores where you will find the information, products and services to help you support the songbird population in your very own backyard.
We are inspired and excited to be able to play such an essential role in helping every backyard…become bird-safe…and bird-friendly.
The alarm has been sounded, birds are in trouble and it's time to take action!
Together, we can all help to ensure that our backyard birds will always be there to bring joy and excitement to our lives.
Please help us spread the word about the declines—and ways to #BringBirdsBack.