3535 Bee Caves Road
Austin, TX 78746
Right next to the Barton Springs Nursery

(512) 328-9453
Open Today Until 6:00 pm
| | |
| --- | --- |
| Monday | 10:00 am - 6:00 pm |
| Tuesday | 10:00 am - 6:00 pm |
| Wednesday | 10:00 am - 6:00 pm |
| Thursday | 10:00 am - 6:00 pm |
| Friday | 10:00 am - 6:00 pm |
| Saturday | 10:00 am - 6:00 pm |
| Sunday | 10:00 am - 2:00 pm |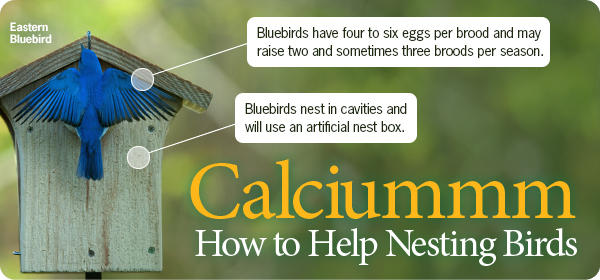 Being Seasonally Savvy: Give Nesting Birds a Hand
Calcium is the most challenging mineral for birds because when they need it, they need large quantities and they need it right away. This is mainly during nesting time for egg laying as well as chick development. The amount of calcium in their natural diet of seeds and insects is often inadequate and they must seek calcium-rich foods as a supplement. Ask us about the many bird foods we offer which include calcium to help your nesting birds!
Our source of calcium is from oyster grit or limestone dust. Both are finely ground and easily consumed by small songbirds.
Be a seasonally savvy friend to your birds by providing them with the extra calcium they require during nesting season.
Where do birds get calcium in the wild?
Some birds consume most of their calcium in their diet. Hawks can get calcium from the blood and bones of their prey, shorebirds may consume the calcium-rich shells of small mollusks, while certain species of sparrows and blackbirds eat plant matter, like kale, that is high in calcium. Most birds, however, have to find extra sources of calcium outside of their normal diet. Birds may seek out small snails, pick at the bones of animal carcasses or the antlers of deer that have been shed and also consume the eggs or eggshells of other birds. Many birds obtain calcium from mineral deposits in dirt.
---