WBU Daily Savings Club
Members can save money all year long on the freshest bird food in town!
Be Seasonally Savvy
Migration, food preferences and weather vary continuously throughout the year, and these influence the bird activity at your feeders. Being "seasonally savvy" means you adjust your feeding program to match birds' changing behaviors. Learn to embrace seasonal changes, and you will attract more birds and experience even more fun!
For a Seasonally Savvy Bird Feeding Station:
Keep your Foundational Feeder and Fat Feeder active and well maintained all year.
When bird activity is greater or extreme weather arrives, expand the number of foods and feeders you offer.
Change the types of feeders and food as migrating birds arrive, when fledglings begin to show up or as the seasonal habitats change:
Add sunflower seeds (in or out of the shell) to your food mix each fall to cater to the caching behavior of chickadees, titmice and nuthatches.
Add a water feature to attract migrating warblers and offer Jim's Birdacious® Bark Butter® nearby.
Offer mealworms to entice bug-eating birds to your yard.
Nature Happenings
• Indigo Buntings are gone by the end of this month.

• Keep your hummingbird feeders filled and clean until you have not seen a hummingbird for two weeks.
• This is the month to install and repair nest boxes for use next year.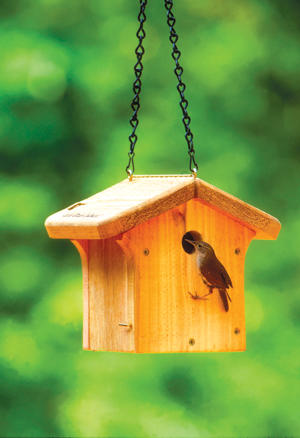 • Waterfowl migration continues to build.
• Free-tailed Bats migrate to Mexico.
• Look for scarce Rufous Hummingbirds to arrive throughout the region.

• Wintering sparrows and towhees arrive. They all love millet in a ground feeder.
• Sandhill Cranes arrive in huge flocks late in the month with many staging in the western half of the region.
• Orionids meteor shower is late-October.