Nature Lovers Wanted!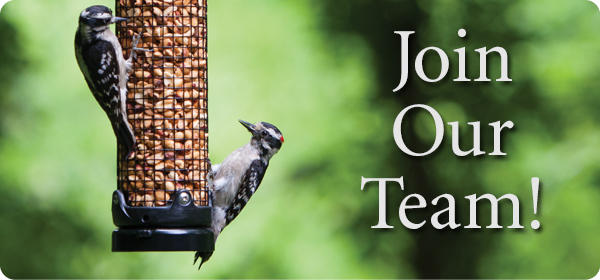 Are you our next great employee?
Do you want a GREAT full-time job with the BEST HOURS IN RETAIL?! Our hours are 10 am. – 6 p.m. Mon-Sat and 11-4 on Sunday!
Are You Someone Who Loves Nature? Specifically Backyard Birds? If Yes, this is the job for you!
The difference between Wild Birds Unlimited and other retailers goes far beyond what we sell. It's who we are. Enthusiasm, professionalism, informed advice and superior customer service are the hallmarks of our staff. We are seeking Part-Time and Full Time Sales Associates with great non fast-food retail and service skills.
Working at the South Austin/West Lake Hills Wild Birds Unlimited store is an opportunity to support and educate our friendly customers about birds and nature. Our Sales Associates work with other staff, including the owners, to bring to life the store's mission – " We Bring People and Nature Together®…And We Do It With Excellence! " To that end, we provide training with regard to backyard bird feeding, bird watching and product knowledge.
Requirements :
• Prior non-fast food retail experience. Specialty retail preferred.
• Our goal is to provide quality products, service, expertise and a high-energy shopping experience.
• Friendly, outgoing disposition.
• Wild bird feeding experience is a plus.
• Interest in nature and wildlife is a requirement.
• We are open 7 days a week and associates are expected to be available on weekends as well as weekdays.
• Seed sales generally occur the first two weeks in October and the first two weeks in February and sales associates must be available to work during these busy periods. Vacations are not permitted during these periods.
• Black Friday and the the two weeks leading up to the Christmas holiday are busy times, and sales associates must be available to work during these periods. Vacation is not permitted during these periods.
• Ability to lift and carry up to 20 lb. bags of birdseed - a foundation of our service!
• Ability to climb a 10 foot ladder.
• Ability to work in a fast paced setting and spend extended periods of time on ones feet. Comfortable with computers and able to use a computer-based POS system and Excel spreadsheets (training provided).
We offer :
• THE BEST HOURS IN RETAIL! Our hours are 10 am. – 6 p.m. Mon-Sat and 11-4 on Sunday
• The bird, hobby, product, and sales training needed to do the job well
• A positive, pleasant working environment
• A competitive wage
• Generous store discount
• Flexible hours